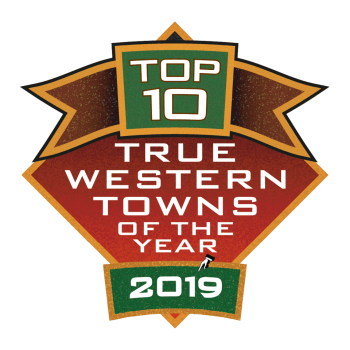 For more than 150 years, San Angelo, TX has been a key city in West Texas. It hosted an army post. It was a stopping point on the cattle trails. It was a regional center for the oil booms. It was a place where history happened—and where it is celebrated today.
That is one reason San Angelo is #2 among True West Magazine's 2019 Top Western Towns. Tombstone, AZ took the top spot. They will be featured in the February 2019 issue, hitting newsstands on December 10, 2018.
San Angelo offers visitors lots of Western-themed fun, beginning at Fort Concho National Historic Landmark. Founded in 1867, the Fort had 40 buildings and covered some 1600 acres. Today, the Landmark has 23 original and restored structures, and offers tours to see period furnishings, artillery, exhibits and artifacts from frontier life. San Angelo's Western heritage comes alive during National Cowboy Day, held at the Fort in July, and through downtown's historic murals. See first-class paintings, ceramics and sculptures at the San Angelo Museum of Fine Arts. The San Angelo Stock and Rodeo Show is February's bust out party, ongoing since 1932.
"San Angelo is truly the history of west Texas," says True West Executive Editor Bob Boze Bell. "From the indigenous tribes who lived there for thousands of years, to the brief Spanish settlement, to the arrival of the settlers and the army, this is a place with a rich heritage—and it does a remarkable job of celebrating all of them. San Angelo truly deserves the designation as a Top Western Town."


This is the 14th year True West has presented this annual award. Editors base their selection on criteria demonstrating how each town has preserved its history through old buildings, museums and other institutions, events, and promotions of historic resources. True West magazine is in its 66th year of leading the way in presenting the true stories of Old West adventure, history, culture and preservation.
For subscriptions and more information, visit TWMag.com or call 888-687-1881.
Contact: Stuart Rosebrook
[email protected]

*By publishing information from this press release, you are agreeing to credit True West magazine
for any information you may use in your reporting. Please also include the newsstand date of the
issue and where it can be purchased: twmag.com or by calling 888-687-1881. When information is
used for a promotional blurb for movies, TV, books, music, etc., you only need to credit True West
magazine, but if space allows, we appreciate you adding our contact information, as well.